Real Speaking Class 2 (BRIGHTER FUTURES EDU.)
Interviews of Minari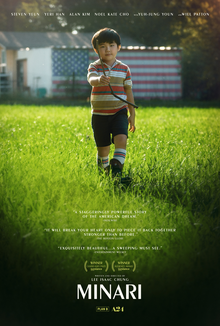 (1) https://www.youtube.com/watch?v=0KcEVLcGvH0
(2) https://www.youtube.com/watch?v=8YT63mIzpBo
(3) https://www.youtube.com/watch?v=mQFC-VdgkUk
(4) https://www.youtube.com/watch?v=Wzq5jUYtgFA
(5) https://www.youtube.com/watch?v=R_HwldVoPfE
Minari (film)
Minari (Korean: 미나리, transl. water dropwort, [minaɾi]) is a 2020 American drama film written and directed by Lee Isaac Chung. It stars Steven Yeun, Han Ye-ri, Alan Kim, Noel Kate Cho, Youn Yuh-jung, and Will Patton. A semi-autobiographical take on Chung's upbringing, the plot follows a family of South Korean immigrants who try to make it in rural America during the 1980s. The film had its world premiere at the Sundance Film Festival on January 26, 2020, winning both the U.S. Dramatic Grand Jury Prize and the U.S. Dramatic Audience Award. It began a one-week virtual release on December 11, 2020, and was theatrically released and through virtual cinema on February 12, 2021, by A24. The film earned six nominations at the 93rd Academy Awards: Best Picture, Best Director, Best Original Screenplay, Best Actor for Yeun, Best Supporting Actress for Youn and Best Original Score. It also won the Golden Globe Award for Best Foreign Language Film, was nominated for the Screen Actors Guild Award for Outstanding Performance by a Cast in a Motion Picture, and earned six nominations at the 74th British Academy Film Awards, including Best Film Not in the English Language.
Plot
The Korean American Yi family moves from California into their new plot of land in rural Arkansas, where father Jacob hopes to grow Korean produce to sell to vendors in Dallas. One of his first decisions is to decline the services of a water diviner and he digs a well in a spot he finds on his own. (-> decline the services of water diviner?)  He enlists the help of Paul, an eccentric local man, and Korean war veteran. While Jacob is optimistic about the life ahead, his wife Monica is disappointed and worries about their son David's heart condition; due to this he is frequently told not to run. Jacob and Monica work sexing chicks at the nearby hatchery and argue constantly while David and his sister Anne eavesdrop. To help watch the kids during the day, they arrange for Monica's mother Soon-ja to travel from South Korea. David, who is forced to share a room with her, avoids her because she does not conform to his idea of how a grandmother should be. Still, Soon-ja attempts to adjust to life in the States and bond with the children. The well that Jacob dug runs dry. Jacob is reluctant to pay for county water, but eventually is forced to do so. He runs into additional difficulties, such as the vendor in Dallas cancelling their order at the last minute. Even so, he perseveres despite Monica's vocal desire to return to California. This strains their marriage closer to breaking point.
Meanwhile, Soon-ja takes the children to plant minari seeds by the creek. She tells them how resilient and useful the plant is, and predicts plentiful growth. David finally begins to warm to his grandmother after she teaches him card games, bandages his wounds, and soothes him to sleep.
Questions
1.      After watching the movie trailer, how do you think about the movie?
2.      The movie is about American dream of Koran family. We already studied The Great Gatsby and learned about American dream through the movie. Can you tell me what American dream is?
3.      Tell me about the movie Minari. Why do you think the movie is such a big hit worldwide?
4.      After watching the video number (3), tell me about how the director came up with the story and tell me more about the director's answers to the questions.
5.      According to the director, how he was able to cast all the actors?
6.      Through this movie, the actress Yun, Yeo Jung has received a lot of spotlight from the industry and globe. Alan Kim did an interview with her, and what kind of questions did he give to her?
7.      To Alan Kim's questions, how Yun Yeo Jung reacted and answered?
8.      After watching the video number (5), how much could you understand the interview? What kind of questions did the interviewer asked to Steven? And Tell me about his answers.